Digital Marketing Analysis & Evaluation | How To & Free Tools
A great digital marketing analysis (DMA) will position your company to begin a great digital marketing strategy (DMS). One without the other, ehhh, doesn't work out so well! Why? That's a great question!
I recently watched a Chicago Bulls game, in which, the Bulls fell flat on their face in the first half of the game. They went into the locker room at the half, down by 12 points! How did I know that? Duh! I looked at the scoreboard. I'm sure that Fred Hoiberg (Bulls coach), during half time, evaluated what the Bulls were doing on offense and defense, because the Bulls came back out and won the game! Now, the businesses out there that conduct great digital marketing are always evaluating where they're at! If there's no scoreboard and shot clock with your business, you'd have no idea if you're winning or loosing!
Just like a basketball team, your business must keep score and have goals that live in time in space!
In comes your digital marketing analysis (scoreboard)! We want to show you how to conduct a great digital marketing analysis and evaluation, because, without it, you cannot build a great digital marketing strategy. So, where do we start? Look below!
---
Website Traffic Analysis
What does your website traffic look like? We can stroll on over to Google Analytics to see what the score of the game is (scoreboard). If you have a business that's cyclical, then you'll need to do a Year over Year view of your analytics.


The most important fact that needs to be known is how your website visitors are finding you. Take a good look at your referral sources under Acquisition > Overview:
Direct – These are the people that type in your website address into their browser. This could be a reflection of print, billboard, or they just knew to type in your website address.
Organic Search – This is incoming traffic to your website as a result of them finding you through a search engine.
Referral – This traffic generated by a link somewhere on the internet that the visitor clicked on to get to your website.
Social – This is social media traffic. examples: Facebook, Pinterest, Yelp, Reddit, Twitter, Instagram,
---
Website SEO Analysis (Search Engine Optimization)
There's so much that we could go into here, but we're going to keep it simple.
Keyword Rankings
One of the first things we look at when evaluating a website's SEO is it's keyword & page rankings. If you have a dental office in Chicago, it would only come natural that you'd like to rank high for the keyword "dentists in chicago". If your' website is ranking 10th for that search term, you're probably missing out on some search engine traffic. This is an opportunity to note and go to work on! There are many SEO tools out there that you can use. Our favorite happens to be SEMRush.com.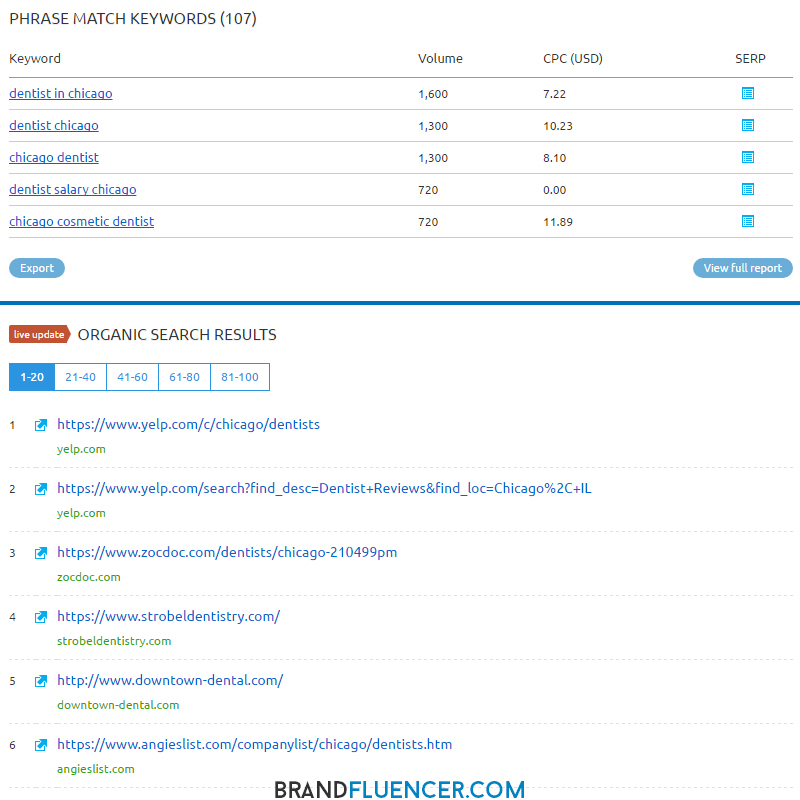 Is your website ranking for the keywords that you actually want them to rank for? If you sell bath bombs, and the keyword "bath bombs" doesn't even appear on your website, there's some work to be done! You need to have that keyword on your website along with incoming backlinks to the page containing the keyword! Easier said than done, but that's why you went into business, right? Ok, well, maybe not…
---
Social Media Marketing Analysis
Social Media Marketing | Presence 101
I cannot stress this enough. You MUST BE TALKING TO YOUR CUSTOMERS wherever they are! Yes, I'm shouting! You need to always be evaluating the platforms you're marketing on and the one's your not. Should you be on platforms that you currently are not? Example: If you sell makeup and you are not on Pinterest, you are wrong! If you sell kids toys and you are not on Youtube, you are wrong! You need to know where your customers are and be there!
Social Media Marketing | Channel Analysis
Here we like to look at a few things.
Competition. Estimate the size of your social media audience and compare it with your competitors'.
Followers Gained / Lost. Are you winning or loosing and why? If you're posting and loosing more followers than you're gaining, you're probably not relating to your audience properly.
Top Posts. Find out which posts got the most likes, shares and comments. You can gage what's working and what's not working here.
Engagement Rate. Are your posts engaging? What's your engagement rate?

---
Website Optimization Analysis
How well does Google like/dislike your website? That is very important! Well, there's a tool that we use to evaluate this… and it's made by Google! Go figure.
Google PageSpeed Insights. Here you will learn what Google sees. Google will give you recommendations on how to optimize your website for desktop and mobile speed.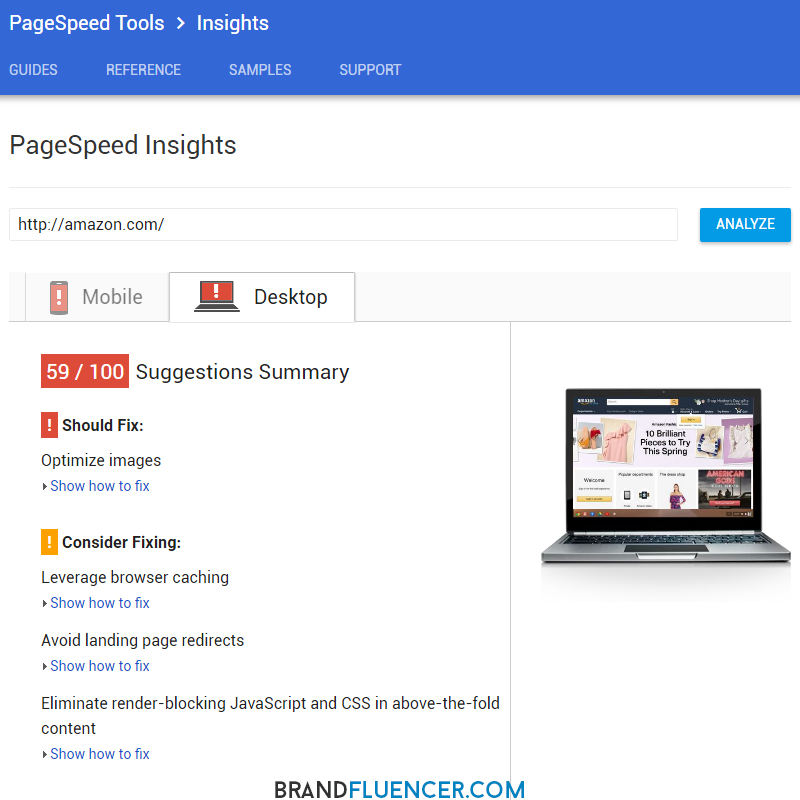 ---
Digital Marketing Goals vs. Reality
What were your goals in these areas?
How do you stand against your goals?
If you never had any digital marketing goals, then this is generally a great place to start and draw a line in the sand. Yes, there are many other items that you could measure, but these are some core digital marketing building blocks. Everything else can build off of a solid digital marketing analysis and plan.
If you're still reading this, you're obviously very interested in making these digital marketing items a success for you and your business! We'd love to assist you and give you a free digital marketing analysis!
---
Free Digital Marketing Analysis
We'll give you a new digital marketing evaluation for your second half!
The free digital marketing analysis will include:
WEBSITE TRAFFIC ANALYSIS
WEBSITE SEO ANALYSIS
SOCIAL MEDIA MARKETING ANALYSIS
WEBSITE ANALYSIS
DIGITAL MARKETING GOALS VS. REALITY